There are a few more events coming up that I wanted to remind you of (or notify you of):
Tuesday, January 23 there is a Mom's Night out at New Holland Brewery at 6:30pm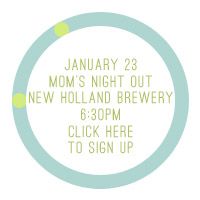 and
February 6 there is a kid event, a trip to VanKley Science Museum at Hope College. There are two time slots for this one, 9am and 10am.
Other upcoming events without exact dates are: the popular potting party at Annual Ambiance and Crazy Bounce, more details on these will be announced as they become available.